About 10 days ago I received an email from Yiota about her kits that she does. Yiota runs her own small online cross stitch business and asked if I would like to review one of her kits, free of charge.
I immediately went to have a browse through her site, which I found to be clearly laid out and I was able to navigate through all her kits without any problems.
As soon as I saw her Serenity Prayer kit I hoped straight away that I would be able to review it, and was really pleased when Yiota said that it would be ok and she would get it in the mail to me.
The kit arrived packaged very securely last Saturday, but as it was my Birthday weekend I didn't get chance to do anymore than open the main package and check that all was okay. It is only today that I've been able to get everything out and have a good drool lol. Here is the front of the package.
And the back.
The kit comes in a clear envelope and contains the cover sheet with a colour picture, instruction page and key on another separate page, chart, 14ct aida, needle and Madeira threads pre-wound onto bobbins and clearly labelled. The quality of the paper is good and the print is very clear. This chart is over four A4 pages and whilst in some parts the stitching and therefore symbols are dense the chart has clearly defined grid lines for ease of work and for those who like to grid their fabric as well rather than stitch cross country.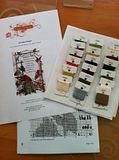 As most of my stitching friends know, I HATE kitting up projects, pulling all those threads, then winding them onto bobbins or putting them in flossaway bags, so this to me is a dream come true lol, all the threads ready to go, easy to sort etc. As I'm an evenweave and linen convert from a few years back, I will be changing the fabric before I make a start on this, but have to say that the aida is a lot softer than I ever remember it being when I used to use it which was a pleasant surprise.
At the end of 2011 I worked out my stitching plans for the first few months of 2012, which didn't include starting anymore large projects. At the moment I am holding strong, but I have to say that this kit as a whole, because of it's quality, is calling to me now as the verse is really something I need to take heed of, so you may be seeing some wips pics before too long lol.
After this experience with Yiota, her website and the kit itself I will definitely be keeping my eye on her site in future and would not hesitate to recommend that people go have a look for themselves and give one of her kits a try.